People stories
Using my learning & development time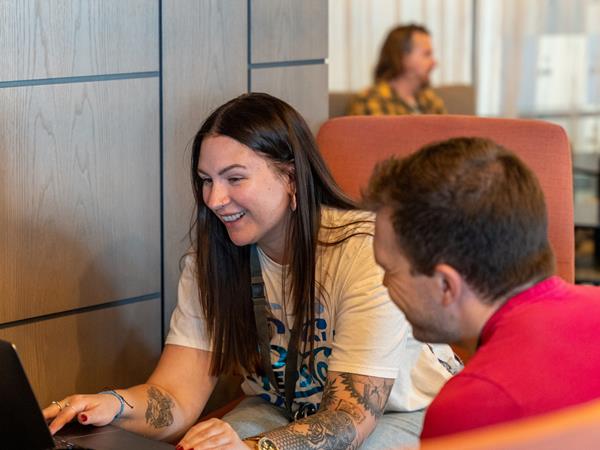 Wednesday 15 December 2021
By Scott Curson (People Experience Manager)
Everyone at SBG is welcome to learning and development (L&D) time as part of their role. This is dedicated time to spend on development, whether that's reading about a topic which interests colleagues or doing a course/qualification.
HOW I USE MY LEARNING AND DEVELOPMENT (L&d) TIME
I use my Learning and Development time for my current apprenticeship qualification that I have been studying towards since July 2020. This is a HR Consultant Level 5 qualification.
I decided that I wanted to work towards a professional qualification after discussing my ongoing development with my Manager, and what I may want to use my learning time for. I decided that working in a people role for SBG, a HR Consultant qualification would be really useful for me to keep developing within my role. I also wanted to gain an official professional qualification as a personal goal for myself and be proud to say, I have a CIPD level 5 and an official qualification as a people professional.
Using some of the tools we have available at SBG on driving your own self development, I did some skills identification to make sure the learning outcomes would support my desired identified skills to build on.
BALANCING WORK AND DEVELOPMENT
Balancing learning and development time can have its challenges. As a busy business, we have all sorts of things going on throughout the year, from events, to key sporting events, to People Check Ins, and that can mean there is a need to be flexible in my approach to using L&D time.
My key actions I take for supporting my own success are forward planning. Making sure I plan my time in advance (as far forward as I can go). I block my time out well in advance, so people know I am not available at this time, and that gives me time to plan what I will work on in these blocks of time.
With that, being flexible is key too. There have been a few instances where I will need to move some time to attend another session or meeting and taking a flexible approach has helped me strike a good balance. Also, by planning my time in advance meant where slots needed to change, I had greater ability to find another slot, should I need to catch back up. But accepting some weeks I may use less L&D time than other weeks, has also helped me knowing missing time isn't the end of the world and to not beat myself up about it. Be flexible, and you will find the time.
Being committed – We all have our days where we might not be "feeling it", and be as motivated to use our planned time, (especially on a Friday afternoon) but holding myself to account for making sure I take my time, is on me. I make sure if I am committed to it, I do it.
I know my L&D time is on me, but I will always work with my manager should I need to really dedicate some time on something and having the right conversations, my manager knows what I am setting out to achieve and will support me towards this.
If I ever need to go beyond that, do some work outside of working hours, that can happen, but it comes back to that ownership piece and it's on me, should I want to achieve something.
WHAT I'VE ACHIEVED
My L&D time will ultimately help gain me a professional qualification that I can proudly say I've gained. Having the ability to gain something like this while working day to day is a huge perk working at SBG, and something I am really grateful to the business for being able to use. Working in the people team we really try to give our people the tools they need to develop themselves, so to be able to practice what we preach, it has been nice and to talk about what I've achieved is a real positive for me.
LOOKING FORWARD
Well, I am now almost at the final stages of my course, and soon will be able to say it's all done (fingers crossed). But learning won't stop for me there, and I am already looking at the next thing to be doing, and I'm already earmarking my self-development fund for learning. Working in my role in People Experience we love an Agile way of working, so continuing to build my knowledge and skills here, on top of what I've done so far, is what I am looking forward to next.
I might give myself a few weeks off first.