Careers
Learning at Work Week 2023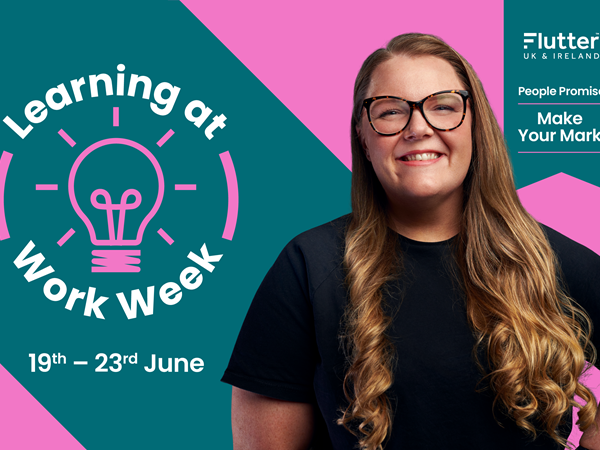 At Flutter UK & Ireland, we believe in accessible and tailored development opportunities that meet the ever-evolving needs of our colleagues growth. 
From internal lightning talks to the vast treasure trove of Udemy courses, we put the power of free learning right at their fingertips.Our commitment to growth knows no bounds!  With our annual £1000 self-development fund, we empower every member of our team to invest in their own professional growth in a way that suits their aspirations.
But that's just the beginning! We take pride in supporting over 150 colleagues in unlocking their true potential through our comprehensive range of apprenticeship qualifications. Whether it's to excel in Leadership & Management, Software Development, Business Analysis, Marketing, or any other field, our tailored offerings, ranging from Level 3 (equivalent to A Level) to Level 7 (equivalent to Masters), are designed to elevate skills and fuel career growth. The opportunities are endless! 
As it's Learning at Work Week, we caught up with Tracey Clarges, Talent Acquisition Partner at Flutter UKI - to tell us about her experience of gaining a specialist diploma through our learning options! 
Who are you, what do you do and where do you work? 
Hi! I'm Tracey Clarges and I'm a Talent Acquisition Partner at Flutter UKI. 
What learning/qualification did you undertake through the business?
I gained a Specialist Diploma in HR Management with University College Dublin (UCD) Professional Academy.
Why did you choose that course? What did you want to get from it?
I was looking for a part time HR course that covered off a wide range of topics and found this course via the UCD Professional Academy. The course covered the entire employee life cycle, emerging trends, relevant case law and best practice. The course was designed for those who were working in the HR profession and noted that it encouraged discussion and exchange of ideas – which I knew would be perfect for me as I'm a social learner!
How did you find the process of finding and booking on to the course itself?
It was really easy to apply. I logged in to our dedicated UCD application portal on iLearn, our internal learning portal, completed the application and had a response the next day with my course details and login for their online library.
How did you find studying and working for your qualification? What did you do to help you manage your learning and day job?
I struggled initially trying to manage my time effectively and found the course was being moved to the bottom of my priority list in the beginning. So, I made sure to dedicate a set time weekly to completing any of my course related activities and stuck to this (mostly!) which really helped me.
What has been the highlight of studying for your qualification?
The highlight for me aside from actually completing the course was meeting my fellow learners! I've made some great connections from the group who were on my course who work across a variety of industries and roles. Hearing about their challenges and experiences was really beneficial and insightful.
Have there been any challenges? If so, how did you overcome them?
Oh yes! Submitting the final assignment! I'm a talker not a writer. So, when it came to submitting the final 3000-word assignment that was definitely my least favourite part! I knew it was coming from the beginning of the course, so I made sure each week to keep a record of anything I wanted to include so that at the end of the 6 months when it was due – I just had to expand on some points and organise it. Thankfully I submit on time and completed!
What advice would you give to colleagues looking to develop themselves and their career?
Don't wait until final year performance reviews or mid-year check ins, own your own development, and take the steps necessary to get to where you want to be. There are so many resources available at Flutter for colleagues to use to develop themselves and their career. If you don't know where to start, start with a self-assessment – there's even tools for that! Then reach out to colleagues who have taken courses or find a mentor who can guide on where to start.