News
Reframe Women in Tech Conference 2023
We're delighted to share that Flutter UK & Ireland are proud sponsors of the Reframe Women in Tech Conference: London. Taking place on 29th September 2023.  

This is a not-for-profit conference with a mission to make conferences accessible for all and to reframe the narrative around women in tech.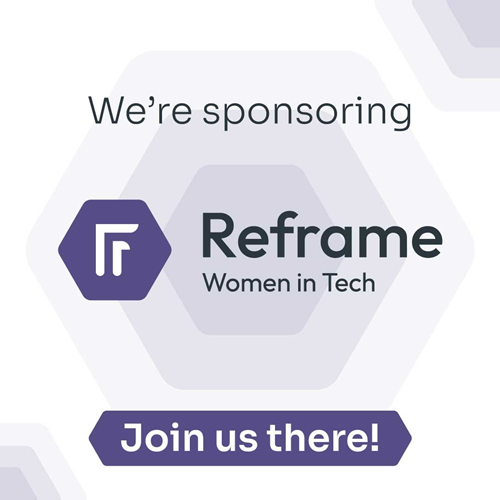 We spoke to Jo Prosser, Director of SBG Technology to tell us a little bit more about why this partnership is so important to Flutter UKI.   

Hi Jo, please tell us below a little bit about why we have decided to be sponsors of this event  
Reflective of the wider industry as a whole, we don't have enough women working in tech roles in Flutter UKI.  Right now, women make up 29% of our UKI tech workforce and we want to increase this.  We're working with not for profit organisation,  Code First Girls to bring more women into entry level roles, which is one way of doing it, but we can't stop there.  To create a truly diverse and inclusive workforce we need to raise awareness that Flutter UKI exists as a technology business, with strong advocacy for women in tech, and is a place that is supportive and provides equal access to opportunities for everyone.  

What will Flutter UK & Ireland be doing there on the day? 
I'll be travelling down from Leeds with a number of women in tech from Flutter UKI, all from different backgrounds, roles and levels of experience.  There will also be a couple of male colleagues attending.  As part of our sponsorship we'll be showing a short video on the day giving a little insight into what it's like being a woman in tech at Flutter UKI and we will have a stand where we'll be available to answer questions and talk about some of the open roles we have.

Why are events like this important? 
It's very easy to talk the talk about getting more women into tech roles, but what women and girls need to see is that there are women succeeding in tech roles right here, right now.  As they say, "you've got to see it to be it" - so this is an opportunity to be visible and tell aspiring Software Engineers, Testers, Architects, Project Managers that this is an exciting and very fulfilling career.  
Events like these are also important for networking, sharing experiences, and perhaps if you're lucky finding a mentor or champion outside of your usual place of work.  
 
 
Is there anything else you'd like to say about this sponsorship or how our involvement is a positive thing for our colleagues? 
 
This is a really positive thing for our colleagues because it gives them something to be proud of.  I'd love Flutter UKI to be truly recognised as a business that supports women in tech and provides an inclusive workplace that is fair and supportive, with equal access to opportunities.